ASTASKIN – Nature's way to protect the skin
AstaSkin benefits the skin in many ways and is an all-in-one skin product. The blend contains 3 key active ingredients plus a variety of vitamins for optimal skin health: Pure and high-quality Icelandic Astaxanthin (6mg), Myoceram™ (30mg) and Collagen (250 mg). AstaSkin is now available as capsules in bulk and private label products for your brand portfolio!
It protects the skin against UV rays and harmful environmental pollutants
Maintains moisture within the skin
Maintains the structure of the skin to prevent it from breaking down and forming wrinkles
It keeps the skin strong, healthy, soft, supple and reduces wrinkles considerably
AstaSkin effects on keratosis pilaris
A consumer study performed by SagaNatura indicates that symptoms of keratosis pilaris are reduced with long term use.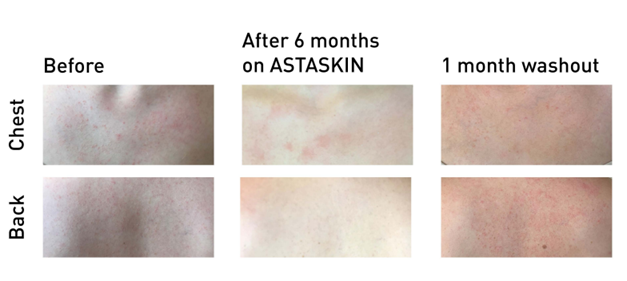 User testimonial, 26 year old female
Itchy skin at beginning of trial was reduced but returned 1 month after AstaSkin usage was stopped. Skin redness reduced a lot, skin texture improved and dryness was reduced.Previous symptoms returned 1 month after AstaSkin usage was stopped.